Torna indietro
Oliver/Dawson Saxon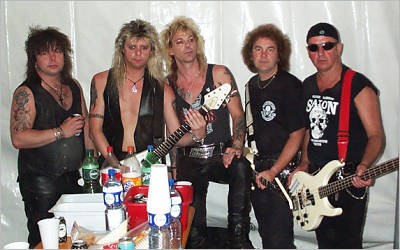 --- ENGLISH VERSION ---

Once again Oliver and Dawson's version of Saxon has been playing here in Finland just this weekend, in Lahti and Urjala. And it will come back in January to a festival in Kuopio. But before the band of the two legends of NWOBHM leave the country to embark in this new tour which will lead to seven dates all over Italy, we had the chance to have a long and interesting phone chat with both Steve Dawson and Graham Oliver, masterminds of this band, famous for their great contribution to the fame of Saxon in the early days. From the new, long-awaited album (finally) coming out to the past and the present of the two musicians, passing through the upcoming tour dates, here's what came out from our interview:

Marco: You have played here in Finland once again just this weekend, you were here before only last spring, and you'll be here again in January for a festival in Kuopio. So what's up with Finland? Why do you like it so much?

Steve Dawson: [laughs] We really like the country, it's a very nice place where to play, I think there's a genuine rock crowd here. I can't know exactly all sort of music people are into, but it's a really good rock crowd. Like it used to be back a few years ago in England. And now I am really looking forward to the festival we are going to play in January here, because everytime we are here the crowd gets better, you know? We get more and more people! So maybe soon we could be able to play in bigger stages and venues!
And then I like the place, is really good, a bit cold maybe! And we like Hesburger [burger chain-restaurant]! [laughs]

M.: Another place where you play wuite often is in Italy. You have already booked 7 shows for next month! What should your Italian fans expect from this tour?

S.: Yes, that's another country where people is very much into hard rock/heavy metal. At the moment in England is not as good as in Italy, or here in Finland. We've played many times in Italy, and we always love doing it. We were one of the very first metal bands to play there in the early '80, first we used to play in big tents and venues, now in smaller clubs, but it's always good to be in Italy, because the people there is really into our music.

M.: What was then your best experience there so far?

S.: Anytime! Anytime we play is always great for me. Maybe the first time was one of the best, because it's the one you remember the better of course. When you start to become successfull, and tour around, and then you get to come to this awesome country and have the chance to see things that you've never seen before except on TV. Like the Vatican, or the tower of Pisa. And then the crowd in Italy is always absolutely crazy! We really like that. Plus the girls are beautiful, and that's something that can't really go unnoticed.

M.: I hear someone laughing there!

S.: Oh yea, but it comes from the other room. The guys are watching porn movies, drinking beer... It's also part of the life of a musician, you know?

M.: [laughs] Yeah, of course!

S.: You should come over and join us some time!

M.: Oh maybe next time I will! [laugh]

S.: Yeah, you'd be welcome to join, and we can have some drink together!

M.: But anyway, the fact that people enjoy themselves so much at your live shows, is sure a proof not only that those song of yours are true masterpieces, but also I believe it's due to the energy and passion you put on stage on your live performances. Which of the two, the songs, or your attitude on stage, has a bigger role in your opinion?

S.: First of all we built our reputation on playing live shows, and that's what people like most! This even before we got a recording contract. Now that we also have a recording contract the crowd is even more interested, because they know there's this new album coming out, and so they come here to see us. Of course the classics are still a big part of our shows, and that's what our fans likes the most. It makes you really feel great to play for people that enjoy your music so much. And then you make new records, people buy them, and they keep coming to watch us in the shows!
You know, I would have never imagined that it would have been so good, because we don't try to write songs that we think people could like, we write songs that WE like, and try to make the best possible music out of it. Like the earliest Saxon albums, I look back at those with pride, I'm very happy of those songs still now, and I'm really proud of them!

But there's also Graham here that wants to add something and can continue the interview, it was nice talking with you!

M.: Ok, same to you, thanks!

Graham Oliver: Hello Marco! How are you doing?

M.: Hey! I'm good thanks, what about you? I've been told you guys were watching porn movies there!

G.: Oh yes, but it's the other guys, me and Steve stayed here for the interview. So do you live here in Finland? Can You speak any Finnish?

M.: Yes I live here, it's getting a bit cold now, but I like it after all! I can't speak Finnish that good yet though, it's a very complex language! What about you?

G.: Oh no no, it's way too difficult! But I know a few words in Italian, the only one I can remember now is "troia"! [laughs]

M.: Well, that sure is one of the first things that people learn when they come to Italy! [laughs]

G.: Yeah, cause we like troia! [laughs]

M.: You said it yourself! But we were talking before with Steve, about the importance of your songs in your live shows and the impact those have on the crowd, as well as their importance in general for this music. So how do you feel about having created those amazing songs, tracks like "Wheels of Steel", "747...", "Strong Arm Of The Law" for example?

G.: Well, the thing is that sometimes you don't even realize it. Then you go to play shows, for example in Italy I play quite often also as a guest, mainly in guitar shows. There's many interesting guitar shows there. And people during those come to you and say you things like "It's so great to talk to you", "listening to your music changed my life!", stuff like that!
And also we are good friends with people we used to like, that we used to listen to in the seventies! We are still fans of music, some people don't listen much to the stuff they used to when they started to get famous, but we still do, we are still fans. And we record music videos of those to have memories of the shows, for example.
Then yesterday the opener for our concert was this finnish band called Twilight Zone, and they played this song which I personally think it was really amazing! So I still listen to new stuff and I like to hear some good music, always.

M.: So can you give us some names of bands you listen to nowadays?

G.: It depends. It really depends on the feeling you have at the moment. Sometimes for example stuff like Metallica's "Death Magnetic". And Metallica, when they did their last tour, before the show aired all this heavy metal songs, and one of them was "Power & the Glory". I'm really proud of that, because it was MY song, MY solo, MY riffs, and to have that in front of such a big crowd, makes you really proud of what you've done!
Or also, as a guitarist, even other totally different things like John Mayer, the american guitarist. I think he's really good, and you should keep an eye on him because I think there's going to be also some show in Italy and it would be really interesting to see that. Even if it's not heavy metal but it's this kind of blues/soul music. But in Italy there's still many people who appreciate good guitar playing. I really like playing there, and I'm often there as I said as a guest musician.

M.: Yes it seems that sometimes in Italy we have good ear for good music! But instead, switching to Saxon, Biff and the others will perform this January in that famous "70,000 Tons of Metal" cruise, and they'll have a 2-night special show, performing one night the whole "Wheels Of Steel" album, and the second night "Strong Arm Of The Law". Any comment on this?

G.: Uhm... not really. I mean, it's very good for them, they still play our songs. And that's also good for us, because we were a big part of it. People knows it and still appreciate our job. Classics after all are still the best, and that's what the fans want to hear. Now we have instead our new album coming out, we have this song, a really good song called "Motorbike", which might as well been written for "Strong Arm of the Law", or "Denim & Leather", you know? We just finished the recordings, it has been mixed last week and now it's going to be mastered, but we don't know exactly when we are going to do that as we are going in tour. But the album should be released very early next year, so we have to hurry also to find a new title as we haven't still thought about that. There's many good songs in there, old Saxon style songs, and I think in general every track is really good. I'm very satisfied with it. Compared to instead something like "Solid Balls Of Rock" which as some good songs, but other which I think are real shit, or at least that's my opinion. But I really didn't have much of a big part into it. This one took five years to do it, but it'll be worth waiting, I mean, it's really going to be a good album. Even though then as I said people always prefer the classics, like for example when you go to see a Deep Purple show they want songs like "Smoke On The Water", or "Burn" etc. and that's usually how it goes. But I'm confident that people will like our new record just as much as we do!

M.: It really seems it'll be interesting! But have you listened to the latest Saxon records?

G.: No, not really. But me and Steve did have to partecipate to the realization of the new DVD, have you seen it?

M.: Uhm, no actually I didn't see it yet.

G.: Because without us there wouldn't really be much left on there, from the early days. I mean, like 90% of the things from back then, like archive videos and so on, include us. And we had to set apart our personal differences and problems because of course I think the fans deserve to have the best. So we did it for our fans, and it's been really good. Since it's thanks to them that we are famous and we need to give them the best we can!

M.: Could you tell us then about the Heavy Metal scene of the early 80ies, from your point of view and personal experience?

G.:cIt was really good back then, it still is now, but at the moment more than for example in England, we are currently more popular in Germany and in Italy, where we use to book many shows. In England the thing is that people is interested to go to see only huge names, what is like the main trend of the moment. They are willing to spend maybe 60£ or more, just to see some very big band or to go to festivals, and they are not much interested, or they seem not to be much interested, in smaller club shows. Except, one thing that is quite big in England nowadays is tribute bands. But I think for me it's quite stupid you know, even if they are good at playing, you see these bands playing covers of AC/DC, Black Sabbath and so on, all dressed up like them, and pretending to be someone else. It's quite a silly thing to do. They should then try to make their own music, something new instead of trying to copy someone that has become famous. Of course is good for the people to go there and hear those songs, but it's obviously not the same thing.

M.: And what if you had to see then a Saxon tribute band?

G.: I've seen one, in Germany. We actually played with them, and they were quite good it seems. I didn't really see much of the show because I was with the other guys, but the thing is that it's not the same as watching the original, and you could see that after, when we actually played there. From the crowd's reaction.
I mean, it's nice to have the chance to see some tribute bands for people, but if I have to listen to some good music and see a good live show from some bands of the 80ies, then I prefer to go and see the real thing, It's much better! And now since all the big bands have began to reform with their original line-up, people got an interest again in those bands, Iron Maiden is the biggest example of this thing, there's been all this big names from the early days which are reforming and touring with the original members. And that's what people want to see. Now for example Alice Cooper also not long ago did the same, and is doing very good.

M.: And would you have ever thought that Saxon would have reached this success at the beginning?

G.: No, not at all! And I wish we had the same manager as Maiden or something, because that's how you get to play in big shows. It's good to have a good manager that knows how to promote your band and make your name get bigger. Who's really capable to do his job. Otherwise you could miss many chances. It was great back then and still is, after all people comes to see us and still congratulate with us for what we have done.

M.: Do you miss that kind of success in a way? Like playing in huge venues and arenas?

G.: Well, last year actually we played in this Bulldog Bash festival in Germany with bands like Motorhead, and it was really great. Then again a few years ago we did a tour with the Ronnie James Dio band, Dio actually asked me and Steve to come with them as we have been good friends, and they really wanted us to play with them in that tour. So we still do also big shows. But I like playing in small venues as well, you have a different and more direct contact with the audience, and people feel that. It can be awesome!
We should maybe have had a different manager because for example WASP is playing at festival like Wacken but I remember back in the days when they were playing in small clubs for something like 300 people. It's still good though to play even just for few people as long as they really like your music. We play often here in Finland in quite small places and it's always great!

M.: And what's your best memory with Saxon?

G.: Uhm, it's hard to say... I think it's probably the first Donington, because at that time it was almost like another Woodstock, it was really huge! And those were really good days for us, for the band, and we had the chance to meet and talk with other great musicians like K.K. Downing [Judas Priest], I remember the show was fantastic and we had a really good day in general. It was awesome!

M.: I wish I was there but unfortunately I missed those days! What did it change then from the "Innocence..." album? I think the band somehow tried to get a more "mainstream" audience there, and really kind of lost the original touch of the previous albums.

G.: It's because the original songwriting chemistry got lost. You know, before it was very good, when the chemistry is right, and the magic is there, you can easily compose some good material. And that's how we did songs like "Strong Arm Of The Law", "Wheels Of Steel", "Denim & Leather"... we were all having our part in the songwriting and in the composing process as a band. I was doing the main riffs, with Paul Quinn who could do that "diddly-diddly-diddly" thing with his guitar, you know... and it was really great! Our drummer Pete Gill was also great. We all helped and contributed to make those songs what they are now. But then this changed, and what happens when you take the team effort away is obviously that you get weaker songs, and people feel that. That the songwriting is not so good and the songs get worse. You can probably tell this better then us when you write reviews etc.
And then all this culminated in the "Destiny" album, which for me it was pure rubbish. And then from there it ruined everything to me.

M.: Yeah, that's probably the worst Saxon record in my opinion too. But it seems that the problems started when the band became more famous in the States. Do you think that might have been somehow your "downfall"?

G.: Somebody tried to say that we were too rough, and they criticized us, because there in the States younger people didn't like it. There was also all this hair metal thing going on, and we didn't really catch the american market, as they seemed to like a more "polished" sound. I think the band payed maybe too much attention to this, and kinda lost the original roughness to try to get more audience.
And that's when we took somehow a different direction, we changed drummer, and got Nigel Durham, our previous drummer with Oliver/Dawson Saxon. Nigel Glockler was also good, but I think the best was Pete Gill, he was an amazing drummer. And it's important to have someone that gives you the right groove to your music. You could really feel the difference in that sense.

M.: But what's instead the best Saxon record in your opinion? And why do you think so?

G.: Uhm I'm not sure. I really like for example songs as "Stand Up And Be Counted", but I don't like "Wheels Of Steel" that much. I think there were some good songs also in "Innocence", but they were really too polished. "Crusader" is a good album, I've done some really good riffs there and "Crusader" itself is a really good song. I like "Strong Arm Of The Law", but I think one of my favourite is still "Power and The Glory", because I did all the music, all the riffs, the solos, I was even the one who named the song "Power and the Glory"! It's probably the record I feel more mine.

M.: And that's also the one who sold the most so far.

G.: Yeah, you are right! Thanks for reminding me, it makes me even more proud of it! It looks like I did I really good job then after all. I remember when we were composing the guitar riffs, me and Paul Quinn, and I was really good at doing the more direct and strong riff parts, while he was of course more technical, with all his "diggly-diggly-diggly-dy" stuff, you know... He's always been the smart one doing the more technical parts, I'm not smart enough to play like that! [laughs] But I did my best in what I'm good at, which is playing all the main more powerful and direct riffs.

M.: Well, you sure did a great job there! Let's come back to talk about O.D. Saxon. Can you tell us more about the new album coming out?

G.: There's this song I mentioned called "Motorbike", which is a typical Saxon song, very old style. Then for example "Chemical Romance", is quite heavy and powerful, and we have also a quite controversial song, called "No Way Out", very strong and powerful also, which is about the futility of war. In general, I think the album has an early Saxon sound in it. After all me and Steve are still the same, we haven't changed the way we make our music, and we still do it with the same approach and the same passion. I believe there will always be that early Saxon component in our music.

M.: I'm really looking forward to listen to this new album soon then!

G.: Oh yeah, of course we'll send you a copy to review as soon as it's ready! So that you can tell us what do you think about it!
But also the previous album, the Son of A Bitch album, "Victim You", I thought that was a really good cd as well. But the timing was wrong. If you've listened to it there are some really good songs in there. And we still play some tunes from there in our live shows. People seems to like them so it's a proof that they're not that bad. Just I think 12 years ago the time really wasn't right. Because it was a really bad period for traditional heavy metal music, it was going really low, and then the people weren't really that much interested in that kind of music, it would have been good in a different period. But now it's much better, and it should be good for the new record, as after the nineties people have slowly came back to listen to heavy metal more. Which is really good!

M.: Yes, I agree! While instead, you mentioned earlier that you were friend with Ronnie James Dio. His death was really a tragic loss.

G.: Yes we were really good friends. During the tour we did together, once he called me on stage in the last show and asked me to play "Rainbow In The Dark" with him. It was really amazing and a great moment for me. I'm still very happy that I had the chance to do that and to play with such a wonderful musician. You know, what happened to Dio, a few months ago... it was a really sad moment for me. And luckly when I did that show, Steve was there and filmed the whole thing, so that I still have the record of it. It was really good. The audio is a bit crap but the video is there. And I'll always remember that.

M.: And how do you remember him as a musician, as well as a man?

G.: He was a fantastic singer! A really nice friend, and also a real gentleman.

M.: Do you have anything more you want to say to your Italian fans before going to see them in your upcoming tour?

G.: I still remember when we played in the 80ies in Italy, it was in this San Remo festival [1983], and there was artists like Peter Gabriel... We were the first rock/heavy metal band playing there, and it was a great experience for us! From there we've played in Italy many times, we are going to do 7 shows next month, and I really hope the people there will be as great as usual. You should come down there and see us so that we can have a good chat!

M.: Yeah, I would like that, I don't know if I'll be in Italy at that time, but maybe we can meet here in Finland!

G.: Yes, next time it's in January, it'd be great!

M.: Well, but thanks for the interview, it's always a pleasure to spend a few words with someone who really lives music with such a good passion!

G.: Thanks, it was a great pleasure talking to you! And thanks for taking the interest in doing this. Hopefully see you soon in one of those shows!


--- VERSIONE ITALIANA ---

COMING SOON!
Intervista di Marco Manzi