Torna indietro
Omnium Gatherum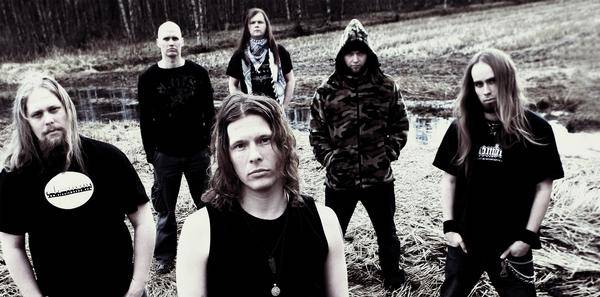 Line up:
Jukka Pelkonen – vocals
Markus Vanhala – guitar
Joonas "Jope" Koto – guitar
Aapo Koivisto – keyboards
Toni "Tsygä" Mäki – bass
Jarmo Pikka – drums
www.omniumgatherum.org
The weather was frankly incredible (almost thirty degrees Centigrade, in Finland!) as I arrived at the first of the many festivals to come this year. Sauna Open Air is located in a picturesque park next to the river, where boats of various sizes float solemnly past the crowds and the noisy bands. This was my first interview ever, so I was rather nervous. Luckily, I couldn't have lost my interview virginity to nicer guys.

It was just over half an hour before their gig, but still Jukka Pelkonen (vox) and Markus Vanhala (gtr) were laid back and happily answered my questions. We took some distance from the stage, and found some peace and quite sitting at some stones on the riverside. (Since I didn't have a recorder handy, this interview isn't as much verbatim as it is based on my notes.)

- Chapter I: Casting Live Shadows -
MK: So, you've been busy haven't you, even I've managed to catch you live three times after the release of your newest album, "New World Shadows".

OG: Yup, we've been touring a LOT to support NWS. We've played around thirty gigs in the last few months, including a few tours. Neckbreakers Ball is going to be great, cos we get to warm up for Dark Tranquillity.

MK: You played at Tavastia on a Tuesday, what was the deal with that?

OG: The date of that gig kept changing, almost all the way till the end for various reasons. Playing on a Tuesday in Helsinki was a bit of a deviation from the norm, luckily some people still came to the show.

- Chapter II: The Records Past -
MK: The two newest records, NWS and The Redshift are a world apart from your earlier work, why do you think this is?

OG: The two newest records were by far the easiest to make. They were relatively effortless to make, which can be heard on the records. Even though the newer albums have catchier songs, we won't force songs into the radio single category. We just make songs and if one is to become a hit, then that'll happen.

MK: How have your methods changed during the years?

OG: We used to compose in our training space but nowadays people mostly do that at home. Markus has constantly some stuff left over and we sometimes rummage around in his cupboard for stuff we can use. We also go to a summer cottage and just play and rehearse there for long stretches of time.

MK: The track "Soul Journeys" reminds me of another great Finnish band, Insomnium, any comments?

OG: We really haven't noticed. That song is actually a left over from the "Years in Waste" era.

MK: What are your thoughts about the third newest record, "Stuck Here on Snakes Way", which can largely be considered a dividing point in your career?

OG: We are a bit torn about that record, it was the first one we made with Jukka on the vocals. It's mainly just punk in our view. The later albums have gone in a different direction.

- Chapter III: Hearing Voices -
MK: Talking about conflicting musings, Jukka, your distinct vocals have received quite a lot of attention.

JP: Well, yeah, but those who hate it can just get lost. (laughter) But seriously, I've received a lot of feedback, some bad and some good. I have a very personal sound to my vocals, and that's just how it is, it's a thing that comes naturally to me. I think it's still better than to sound exactly like all the other growlers. I still try to improve and learn new things, I've for example had some singing classes from Aleksi Parviainen (Soulcage, Moottorin Jylinä).

MK: You had some guest vocals on the newest record.

MV: Yeah, Dan Swanö laid down some clean vocals for a few songs on NWS. I played a solo for his Odyssey project and encouraged by that I asked him to return the featuring favor. It all came together surprisingly easily.

MK: And what about the lyrics?

JP: I have mostly total artistic freedom when it comes to lyrics. I write about what I want and the guys are fine with it. I often write lyrics in reserve, so I can just look at them later and use them for songs that have a fitting mood.

- Chapter IV: The Record to Come -
MK: Now that you've managed to make a record that's in your own words "what we ought have done from the beginning", what about it's follow-up?

OG: We're already making new material. The next record will probably continue in the same direction as NWS. On the other hand, NWS was so massive that it'd be difficult to make its successor any bigger, so maybe we'll make it a bit simpler, we'll see. Funnily enough, we already have the concept for the album cover thought out. Olli Lappalainen, who has done all of our covers, does sort of producing for us by directing our thoughts into a certain direction visually. This time he had the idea of portraying ruins.

MK: Kinda like NWS's cover?

OG: Actually, the city in that cover isn't dead even if it appears to be. The message is that technology can be devious, and have dark consequences, but there's still life under the surface. That'll be different for the next cover, only ruins will remain. Life has to end in order for the metamorphosis to take place, in order to create something new and different.

- Chapter V: The End Complete -
Their gig drawing ever closer, the interview is coming to an end. With time for one last question I decide to, as a guitarist myself, ask about my namesake's custom painted guitars.

MK: You play with two white Jackson RRs with the OG logo on them, have you ever thought about designing your own guitar?

MV: Like a completely new model? I've never had the need to do that. Some guitarists have managed to create their signature models, but I'm just so happy with my Jackson's that I don't think I'll go through that much effort. Besides, I don't know how to make my guitars any better than they already are.
Intervista di Markus Karppinen