Torna indietro
Epica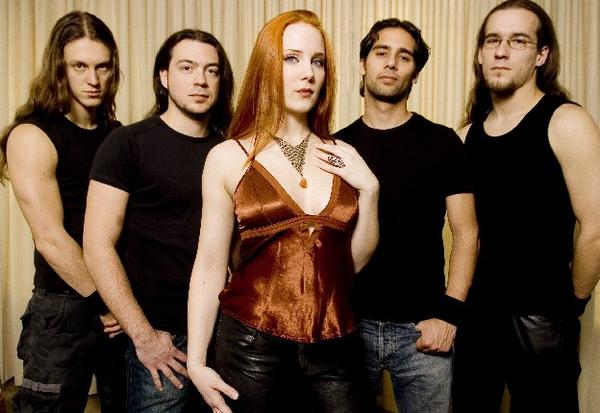 Line up:
Simone Simons – mezzo-soprano vocals
Mark Jansen – rhythm guitars, grunts, screams
Isaac Delahaye – lead guitars, backing vocals
Yves Huts – bass guitar
Coen Janssen – synthesizer, piano
Ariën van Weesenbeek – drums, grunts, spoken words
www.epica.nl
Saturday afternoon, second day of Tuska. There's just been a brief storm which luckly made the climate a bit more fresh for at least half hour. It's with this setting that during Katatonia's show I have the chance to discuss for a few minutes with Epica's keyboard player Coen Janssen, not much more than one hour after the band played their show here at the finnish festival. Here is our interview with the dutch musician, about the production of the new album, their music and other projects, including a small parenthesis about Kamelot:

Marco: First of all congratulations for the show, because I think that today you had the biggest crowd so far and it was a good show.

Coen: Oh yeah thanks, we were the first band [on the main stage] anyway.

M: Instead from "Design Your Universe", it has already been about 2 years now... so how is the composition of the new album taking shape?

C: We are busy now, we are doing pre-production right now. Mark and Simone went to the studio last week to work with Sasha [Paeth], the producer, on the songs we have so far. And after today we are going to go home, write some more, shape the songs more, and after a week I think they'll go back for the final pre-production, then I think we are going to start recording!

M: So the songs are ready yet?

C: Well yeah, they are not 100% ready, but we have like 15 or 16 ideas for the basic songs, and then they are going to be shaped into full songs within a week. And I guess we are starting the recording at the end of August, or beginning of September... So, we are working very hard right now. Because it's time that a new album will be released.

M: Yes, I think your fans are waiting for that.

C: Yeah, but you know, we have been touring so much, so there was no time yet.

M: Then what can you tell us about the new album? How would the songs be like, compared to the previous record?

C: Well, I think, I hope we can keep on growing. This time Isaac [Delahaye] is writing also with us, because on the last album he was just in the band. For the recordings he didn't actually write a lot. So you can hear Isaac's ideas in the new Epica songs, and it might change a little bit. I hope we can just keep growing, and stay true to our sound anyway.

M: Personally I think that with every album it seems you get everytime better, even if the songs maybe become also a little more complex. But they are usually really varied, and it's a really good thing.

C: Yeah, hopefully we can keep up with that. But you know, you can never tell beforehand. Of course we've grown as musicians and we've grown as people, you know, we are not the "young kids" anymore from 10 years ago, but... let's see! We'll see in March, it's going to be released somewhere at the beginning of March next year.

M: So in what way do you think your sound has been evolving? You are still keeping that sort of "dualism" between growl vocals and Simone's mezzo-soprano?

C: Of course. You know, Simone is a trademark of the band, combined with the growls, which is our style. You know, we have this "symphonic gothic metal" thingy going on... But I guess we are trying to keep it more metal than the other bands. It's just that, we don't want to make pop songs with our guitars. We want to stay a metal band. For one, and then with all the aspects of Epica combined... We want to be a metal band, because it's just too much fun to play at these kind of festivals! [laughs]

M: That's good to know. What's your main source of inspiration as a musicians, and which bands do you "admire" the most?

C: Well, the album that keeps staying in my cd player in the car is the last Soilwork album now. But it's not really an inspiration, because it's a little bit too far from our sound.

M: Yeah.

C: I listen to a lot of different music, I listen to the radio normally and I still like, you know, when you see those epic movies soundtracks. That still is the best inspiration I guess.

M: And I think it fits pretty well with the music of you guys.

C: Yeah.

M: But instead I wanted to ask you also this: with your latest EP, "This Is The Time", you gave all the profits to the WWF organization and I think it was a really nice initiative. How active are you guys actually about the preservation of the environment and this sensibilization of the people to that?

C: Well, how active? I'm not that active, I try to be as "green" as possible, and if we can help by doing stuff like this, you know, and raise awareness... Mark writes lyrics about this stuff too, and I think the first thing is the awareness, that we should watch out what we are doing with the planet. As far as what am I doing actively... not that much to be honest. But if we can raise money by doing stuff like this it's a good thing.

M: And how did it go in the end? Did you raise enough founds?

C: Actually I have no clue! That's really a thing between Mark, and also the record label. I'm not sure how much we sold of that single.

M: Ok then. But to change topic, you've been in collaboration with Kamelot in the past, and now I was thinking with Roy's [Kahn] departure that maybe there could be any chances to have him as a guest in the future?

C: I don't know. I don't know if Roy still wants to sing! I hope so, but maybe, you know, we did one song with Roy and one with Toni [Kakko, from Sonata Arctica] on the last album... Maybe on the next album we are going to ask somebody else!

M: Yeah. But what do you think of Roy's split with Kamelot?

C: I think it's really sad, because he has a great personality on stage. And he is a great singer. I hope that Kamelot can survive, because it's always hard to lose the frontman, and he's a very charismatic man, so it's really hard for the band. But I'm not in contact with them that much, even though Simone is dating with the keyboard player and we see each other a lot, you know, the inside stories... I think they will not come together soon anyway. They have to try to go on with a new singer.

M: If I remember correctly in the latest tour dates they had this italian singer, Fabio Lione. But I don't really think he fits that well into that band.

C: You know, I don't think anybody would fit. Because you want to hear Roy when you hear Kamelot. He is THE voice of Kamelot. It would be really different to see somebody else sing the songs of another singer. But I think Kamelot is a steady band, they will survive, they will find a new singer and hopefully they will build a new career with that one.

M: Let's hope so. Moving on, last time you were in Finland it was in September, together with Floor Jansen's ReVamp. Do you prefer to play in club shows where you can have everything arranged as you like, or in festivals like this?

C: I don't really care about that. They both have their advantages and disadvantages, club shows are nice, festivals are nice. It just depends on the season, you know. But I don't have a preference basically. I think sometimes in clubs it's nicer because you have a more "intimate" experience, and you can do your own production. But you know in a festival you have also different kinds of audience that can see you, so it's also cool.

M: And which songs do you normally prefer to perform the most?

C: I always like to play the ballads, you know, the piano ballads. But on a festival like this you only have 1 hour and we want to be more heavy on the set. But you know, I can have fun with every song on stage. If the atmosphere is good and there's a good crowd.

M: I saw you were "running around" with your keyboard on your platform.

C: Yeah! That's fun. Luckly I have this little rotating thingy, so it makes you more "movable". It's nice.

M: Nowadays Simone is considered basically one of the most talented singer in this genre, and you've been really successful with her. But if you had to choose a "top 3 female metal vocalist" chart, who would you choose?

C: That's a hard thing. Of course I like Simone, it's nice to work with her and she's a good singer. I also like Floor, from ReVamp. She is a very professional girl. And then another one... Uhm, I actually don't listen much to female-fronted bands, because I don't want to hear that a lot. But I like Anette from Nightwish, on the album.

M: Let's see how it will be the next one now.

C: Yeah! You know, actually I prefer her above Tarja, because I don't like Tarja's voice that much.

M: I think probably the previous album for them was still at least partially based on having Tarja at the vocals.

C: I don't know. It could be.

M: And how much would you say - to change subject - that it's important for the band, your band for instance, the appearance and the image? How you present yourself to the fans, both on stage and from the media's point of view.

C: I think it's very important. I think people don't want really to only listen to music, but they want to see a show, and the, I don't want to say "full product"...

M: The whole "package".

C: Yeah, the whole package. And it's not only the music, but there is also a big part of the show elements on stage, you know, the backdrop, the lights, the sound... how we look.

M: And then you might get almost "idolyzed" by your fans.

C: Naa, it's not that high. But you know, it's nice to have fans that come for you and in the front rows even here we recognize faces. It's nice that people are coming, and they want to listen to our music, and see the shows. That's awesome!

M: Yeah. The other guys of the band have been quite busy anyway in the earlier part of this year with the new Mayan project, releasing the debut album, and playing also those shows with Epica. Have you been following the band? And what do you think about it?

C: Well of course I have been following them. I'm really close to the four guys who are in our band and are in that too. I wrote actually a little choir piece for the album too, so I also partecipated a bit. It's nice that they can do that, you know. Mark is a busy bee and if he has the time and the possibility to do another thing, you know, sure, why not.

M: Don't you feel a little left out anyway?

C: Oh well, yeah. Only the bass player and I are not in this. If I feel left out? maybe. But I just became father last year, so I have my thoughts somewhere else.

M: And congratulations for that!

C: Thanks. But you know, it's fine.

M: You probably are also going to tour together.

C: Yeah, if it's possible it's easy. Doesn't take much extra space in the tour bus. Maybe next tour, I don't know.

M: Sounds good. One last curiousity: I think Simone have surely received in these years many "strange" requests from the fans. Which is the oddest you know of?

C: For Simone? I don't know, luckly I don't have to read all the emails, but you know she get's marriage proposals I guess, but the rest of the band also gets marriage proposals. And the most funny stuff is that some of us guys receive also love letters from other guys! That's kind of strange when you're not gay, but you know, you hear strange stuff. People do strange things when they like your music somehow. I don't know why.

M: Oh there is a lot of strange people around!

C: Yeah, yeah.

M: So, do you have any other project of your own instead?

C: Oh yeah, I have a little daughter! It's a good thing to put some time in! [laughs]
Now we are just working on the new Epica album, and maybe when I'll have time later on I'll do something myself too, you never know.

M: Well I hope the new album will be even better than the last one!

C: Yeah absolutely. It's necessary if you want to keep growing!

M: Obviously. But thank you then for the interview, and again compliments for the nice show!

C: Thank you very much.
Intervista di Marco Manzi