Torna indietro
Sabaton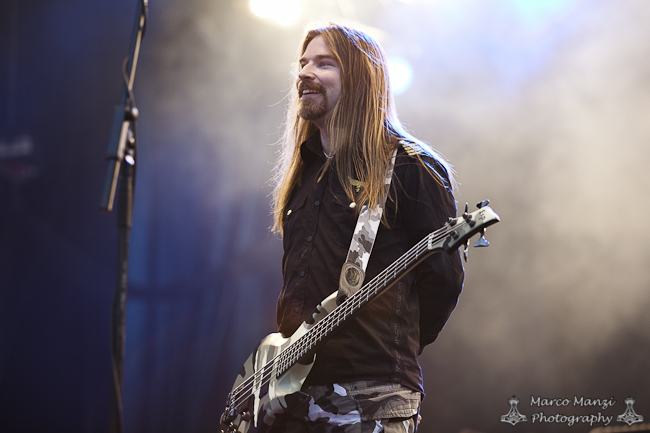 Line up:
Joakim Brodén — vocals
Pär Sundström — bass
Chris Rörland — guitar
Thobbe Englund — guitar
Robban Bäck — drums
www.sabaton.net
I had a chat with the original bass player Pär Sundström and the new lead guitar player Thobbe Englund. The lead guy Joakim Brodén had such a sore throat that he couldn't attend. Luckily he rocked the main stage as nothing was the matter later the same evening.

1) Change is the only constant

Markus: First things first, the main news about Sabaton was the almost complete lineup change.

Pär Sundström: Here's the deal, we had played together for twelve years. During that time a lot happens and people change and want different things. That is everyone but me and Joakim, who've always wanted the same thing. Many people were shocked how many people left at the same time, but this has been brewing for years. We've just held everything together as long as it was possible. We had different views on what Sabaton is all about. Basically, we want to tour as much as is humanly possible, but that wasn't something the rest could agree on.

M: But is there bad blood between you?

PS: No, this will just take time, and we're not really talking at the moment. There's a lot we own together which has to be figured out so everyone's being careful.

M: And what about this Civil War band the guys have set up?

PS: I think it's really cool, it's going to be what they wanted, with less touring and making music for fun. So everyone wins, Sabaton tours constantly and Civil War can still make music, just at their own pace.

2) New faces, new places

M: But how is it like to come into a twelve year old band as a new guy with the media trying to make everything as dramatic as possible?

Thobbe Englund: Of course we were really nervous, how would the fans react to us? But we've been accepted really well, and it's seldom one reads anything negative about the lineup change nowadays. It makes it easier to give that 110%. Things are not going to be the same, but hopefully they can be even better.
PS: There's always going to be those who say everything was better before, but I just hope they'll see us live and then make up their minds.

M: How many gigs have you played with this new lineup?

PS: About 45. We started with a 30 gig long American tour, so we are already used to each other now that we came to the big European festivals. Everyone knows where to be onstage and how the show goes. In America we only had one setlist, but we're adding new songs to our roster each week.

3) Stormakts Sverige är ej mer

M: The newest album, Carolus Rex, (the best so far in my opinion) was published in both English and Swedish, was it supposed to be all in Swedish, but you translated it so that people outside of Scandinavia could also understand it?

PS: Nope, the record was always going to be in English, but we thought that some small parts might be in Swedish. When we started to record the stuff, we realized that the songs really worked well in Swedish, so we decided to make a whole another version of the entire album. We understood that many people are going to want to hear this, so instead of a limited edition bonus, we made also a double album so everyone could hear it.

M: What about in the future?

PS: This was a special record, from now on we will return to English songs. We won't write about Swedish history anymore, at least not in a long while. The next album will have another theme.

M: What about more songs about Finnish history, like White Death and Talvisota?

PS: There's a lot of suitable material in the Finnish wars, so we're definitely keeping our eyes open for any new ideas. Since we're neighbors it's also closer to us on a personal level. And we also have a long history together, we've fought side by side many times, even if you Finns have had the heavier burden to bear.

4) The future is an open road

M: Any thoughts yet given to a new album?

PS: Definitely, we're thinking about themes, but there are no new songs yet.
TE: We're on tour until October next year, so there's not a lot of time for writing. One and a half years on the road, that's the life!

M: It's cool how big Sabaton has gotten in the last few years.

PS: There's a lot of people who know us as a new band, but we've been at it for a long time. When we went over to Nuclear Blast for Coat of Arms, it was then that people really started noticing us.

M: One last question; the breast armor Joakim has, where does he get those from?

PS: There used to be a place in England where they made those, but they're not making them anymore, so Joakim will just have to make do with the ones he has.
Intervista di Markus Karppinen